Somfy Smart Home
You and your smart home: always connected and in control with Somfy
Description
With the new TaHoma® application, Somfy places real, condensed, technological control into your hands. Tahoma simplifes the control of multiple home devices. It's so intuitive to use, why wait? Accessible over the internet, via a computer, smartphone or tablet, with the TaHoma® interface, you have touch control of blinds, curtains, lights, electrical equipment, heating, garage doors and gates, etc. In short, your environment moves with you, so regardless of where you are, in the house, on vacation or at work... you are always at home.
Benefits
Simple
The TaHoma® Box radically simplifies control in the house
- Easily control your home whether you're home or away with the TaHoma® interface.
- You customize your smart home, at any time, so you stay in control.

Accessible
Somfy wireless smart home system, TaHoma compatible with any configuration: newbuild or renovation.
- It is easy to install without major structural work, whatever your project.

Upgradable
Somfy smart home system, TaHoma, adapts as your needs and your budget change.
- You can add new devices to your installation whenever you want.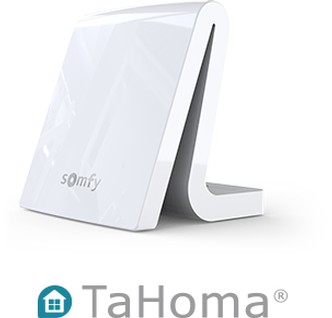 Benefits
Description
- Control all compatible devices. Individually or in groups.
- Provide a realtime display of the status of equipment: open or closed, on or off.
- With the camera, you can monitor your home remotely.
My scenarios
- Create scenarios to manage several home devices simultaneously (for instance, the "going out" scenario, which closes all blinds and roof windows, and switches off all the lights).
- Activate your scenarios manually.
My week
- Create a day, with scenarios which start to run at the selected time (up to 20 days possible).
- Program a week with different days (e.g.: "work" day and "weekend" day).
My sensors
- Combine scenarios with sensors: sunlight, temperature, opening, smoke or presence.
- Program sending an e-mail, if the sensors detect an incident.