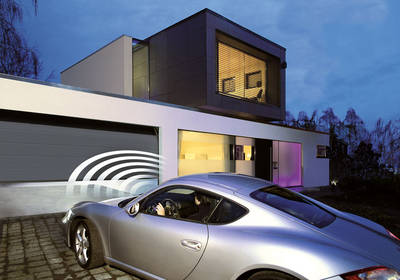 Garage door automation
Convenience and security for your home
No one likes to get out of their car in windy or rainy weather or in the middle of the night, just to open the garage door. With a Hörmann garage door operator, you always have a clear path into your garage, as you can open the garage door and entrance gate quickly, conveniently and safely from within your car using a hand transmitter. Hörmann offers innovative operator technology with the fast, convenient SupraMatic, the inexpensive ProMatic as well as the ProMatic battery, the operator for garages without a power connection.
The BiSecur radio system is included as standard for all garage door operators. Hörmann's innovative BiSecur radio system with status query comes with unique convenience and security functions and also includes hand transmitters in an exclusive high-gloss design.
Please call 01376 510901 and ask for Lee, Graham, Craig, Charlie or email.  sales@essexgaragedoors.com

This combination of speed and convenience is fascinating. Your sectional garage door opens faster and you can drive directly from the street into your garage. And you will wonder how you ever lived without convenience functions such as the additional opening height to ventilate your garage, and being able to switch the operator lighting on and off with your hand transmitter. An operator cover made of brushed aluminium also provides the SupraMatic with a very elegant appearance.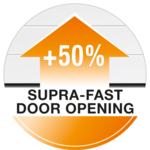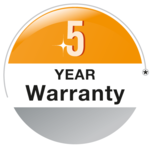 PDF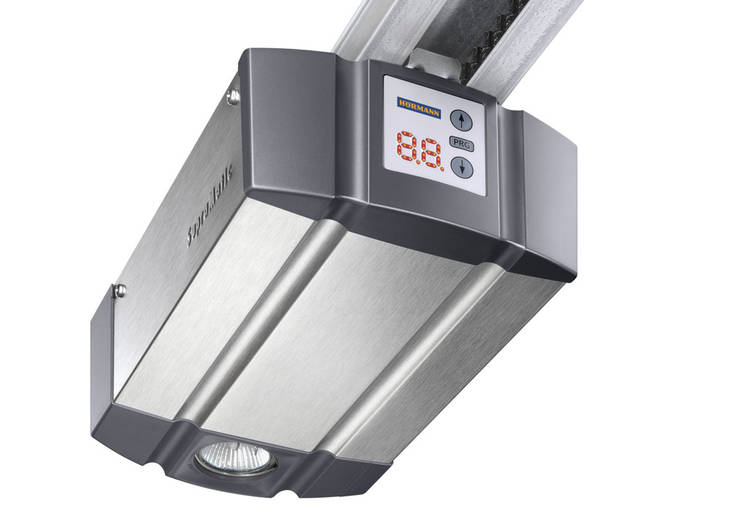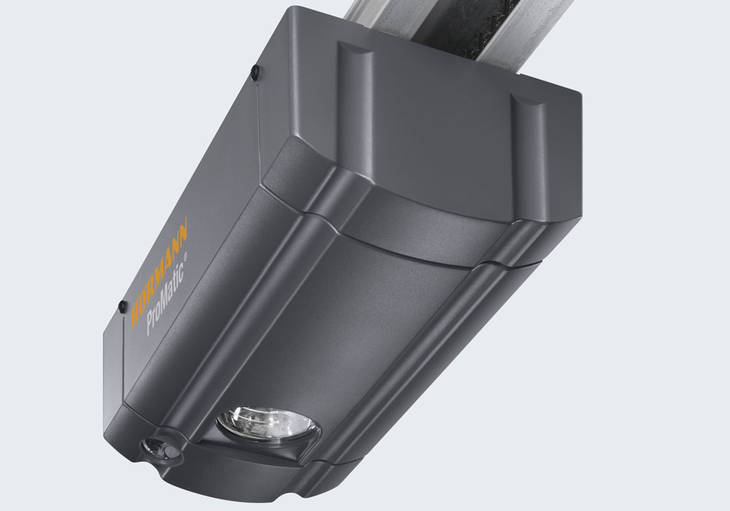 ProMatic garage door operators feature the same proven Hörmann technology as all Hörmann premium operators. This guarantees reliable function – at an attractive price. Even in a garage without a mains connection, you can enjoy the comfort and convenience of an operator. The ProMatic Akku makes it possible. Easy to transport, it can be recharged in a matter of hours, or conveniently via the optional solar module.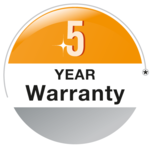 PDF
Garage door operator boom
1:  Automatic door locking in the operator boom When the garage door is closed, the anti-lift kit automatically engages in the guide rail stop. The door locks immediately and is secured against forced opening. This process is purely mechanical and thus also functions without a power supply.
2: Exceptionally flat boom An exceptionally flat boom of only 30 mm flat, means that operators are easy to fit to any commercially available garage door and are therefore also ideal for retrofitting
3: Emergency release from inside During power failures, you can open the door conveniently from inside.
4: Universal fitting bracket The universal fitting bracket  fits all commercially available up-and-over and sectional doors. 
5: Maintenance-free toothed belt Reinforced with aramid fibres, the Kevlar toothed belt is particularly tear-resistant and quiet-running. It does not require grease or lubricants, providing an important advantage over chain or spindle operators. Automatic belt tension The strong spring mechanism  tensions the toothed belt automatically, thus ensuring uniform, smooth running.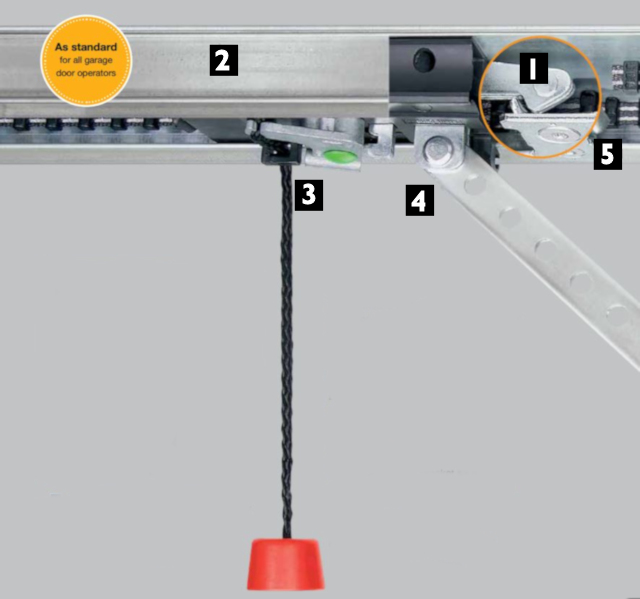 Faster. More secure. More intelligent. Brighter. Here comes the garage door operator of the future. The SOMMER pro+ and base+ operators are the innovative successors of the successful SOMMER operator concept. The intelligent carriage offers plenty of room to connect well-designed accessories. The separate control unit housing of the pro+ offers more flexibility and convenience.
PDF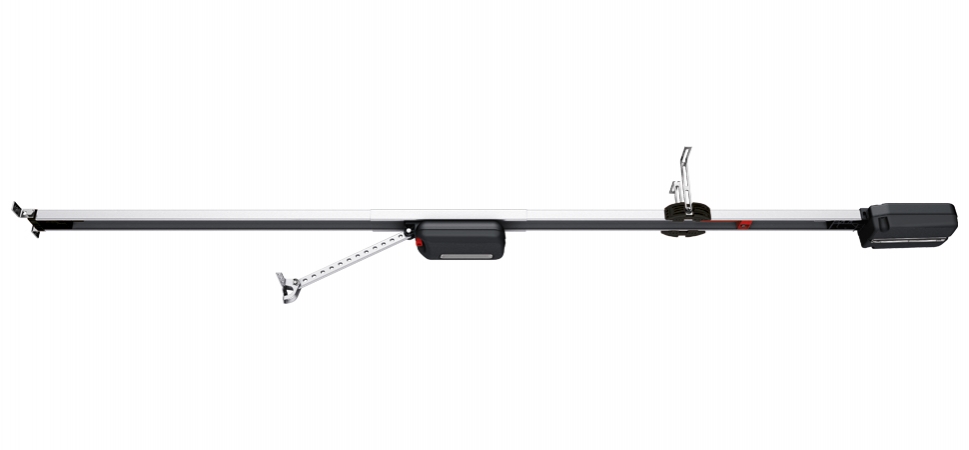 Highest level of flexibility (pro+)
Flexible wall or ceiling installation thanks to the separate control unit housing of the pro+. No additional power sockets need to be installed on the ceiling. The integrated button in the control unit housing offers additional convenience in the garage.
Safety thanks to encrypted radio control system
The garage door operator with bidirectional, rolling encrypted radio control system provides maximum security. The SOMloq2 radio control system transmits bidirectionally, which means that feedback on the send command or the door position can be received. The rolling code is encrypted with 128 bits, the same encryption that is used for online banking. Backward compatibility of the transmitter to the Somloq Rollingcode radio control system is always available.
Countless extensions
Useful extensions such as the Memo memory space extension, the Senso humidity sensor and countless other accessory modules are also available. Additional connection options are located directly on carriage (slip door contact and safety contact strip OSE or 8k2). Thanks to our modular system, extensions can be installed quickly and easily. Since the connections are located directly on the carriage, no spiral cables are necessary, saving you time and money.
Battery pack for power failures
During a power failure, the operator can be run in emergency mode with our battery pack and the door will never fail. 
Restriction of closing forces
The system monitors the closing forces according to EN 12445 by means of electronic motor monitoring. The control mechanism creates maximum security.
Emergency release
Thanks to the integrated SOMMER emergency release system, the carriage can be engaged and disengaged in any position. This ensures security in any position, even if there is a power failure.
Environmental and cost efficiency
The energy-saving operator consumes about < 1 watt of energy a year in standby mode, amounting to about €1.80 in electricity costs. It is thereby not only inexpensive to operate, but also environmentally-friendly.
Safety thanks to travelling lighting
Lighting is integrated in the carriage which provides constant lighting to the danger zone. The LED lighting is equipped with 6 individual LEDs which are switched to two safety circuits - double is always better.
Smooth-running and long-lasting
Thanks to the gear-saving technology, the garage door operator is extremely quiet, low-wear and has a very long lifetime. The operator is completely maintenance-free.
Optimal application of force
The motor track carriage moves itself along a permanently tensioned chain so that no frictional loss and no loss of power occurs as does with a revolving chain.
Clean chain
The galvanised chain is maintenance-free and does not need to be oiled. This prevents oil spots from getting on the door or vehicle.
Improved fire prevention
Due to the flame resistant materials, the operator offers a high safety factor and protects from fires starting.
Universal use – compatible with almost all door types
The base+ and pro+ garage door operators are well-suited for sectional doors, overhead doors, up-and-over doors, swinging doors, hinged double doors, side-opening sectional door, side-opening doors and sliding gates in buildings. You can achieve optimised door parameters with the easy DIP switch function directly on the operator.
Quality
Our garage door operators are tested and certified according to the strictest guidelines. 30 years ensures that our products are of the highest quality and naturally, "Made in Germany". 
pro+ is the innovative successor of the successful base+ garage door operator from SOMMER: Now even more flexible and convenient




due to the separate control unit housing

Universal operator for sectional doors, overhead doors, swinging doors, up-and-over doors*, hinged double doors*, side-opening sectional doors and sliding gates

Integrated LED technology: durable, energy-saving and efficient lighting

Saves power: <1 watt standby

Made in Germany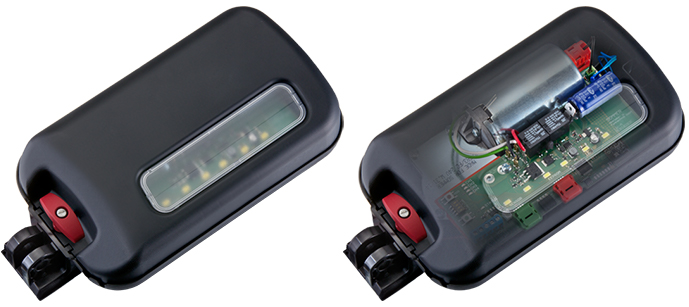 Handling
Modular system (modular system structure): universal application for ceiling / wall mounting

Everything in one box

Packaging uses small amounts of resources: compact, environmentally friendly, recyclable

Good storage capacity: easy transport to the construction site

One-piece pre-mounted track possible

Easy to extend

Easy to shorten

Slip door safety device without spiral cable: can be connected directly on the carriage

Safety contact strip without spiral cable: can be connected directly on the carriage

Countless accessories, easy to install thanks to colour-coded and exactly labelled sockets

one-piece-flow: Flexible individual types can be generated quickly
Flexible installation types for pro+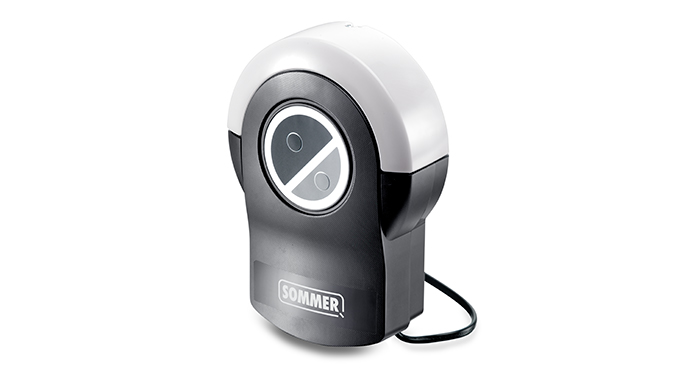 The SOMMER pro+ combines our most advanced garage door control unit with the flexibility of a separate control unit housing. There are three alternatives for separate installation of the housing (front, rear or on the ceiling) so that existing power sockets can be used and you can enjoy the highest level of customised convenience. This is how our operator becomes your operator.
At the same time, the integrated button is used for controlling the door and lighting.
"Rear" installation type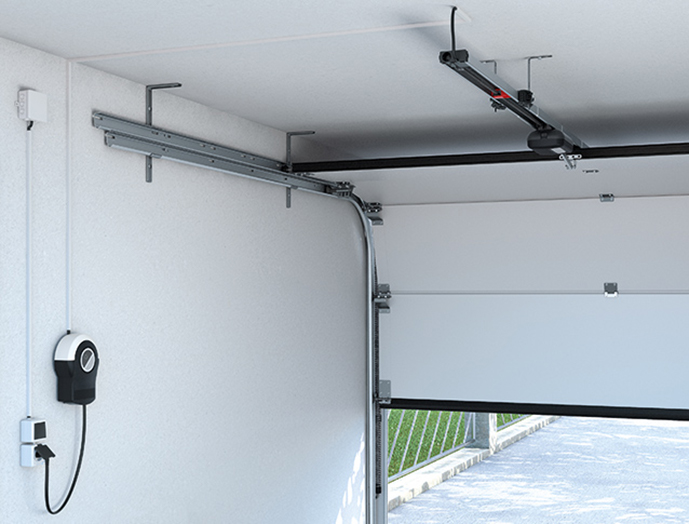 "Ceiling" installation type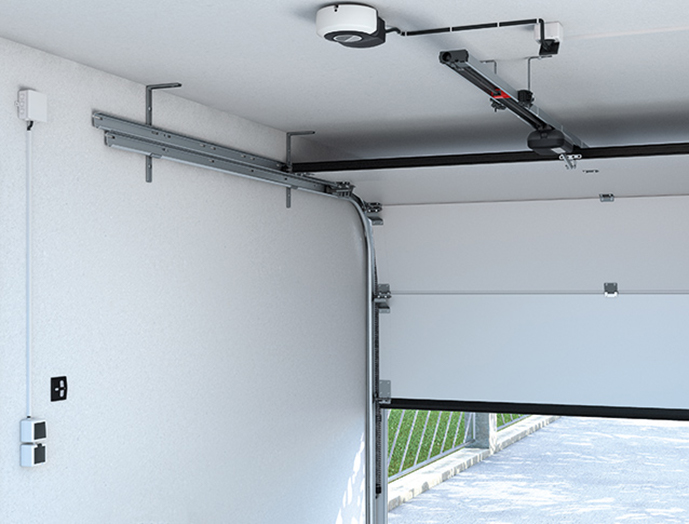 "Front" installation type